Enrichment Classes
We're excited to share that we are bringing some wonderful enrichment classes to Workplayce for your little ones to enjoy with caregivers onsite! Our September schedule is ready for registration and we have even more providers joining in October and beyond.  We'll be singing, dancing, moving and getting MESSY! We've secured discounted rates for all of our members, but classes are open to the public as well, so feel free to pass along this email to friends and family! 
Please let us know if you have any questions.  
Looking forward to playing together.  

Music Together
Classes for Babies, Toddlers, Preschoolers...and the grownups who love them! ®
Each weekly Music Together® class is an active music-making experience, designed to teach the way children learn: through play with the ones they love. Your Music Together teacher will lead music activities for you and your little ones to sing, play, and jam along to. Classes are typically taught in ten-week semesters, with a new song collection each session. Making music relieves stress and increases bonding for everyone, while also supporting your child's language, social, emotional, cognitive, and physical development.
The Details:
Monday 10-11
Sept 25 (10 classes)
Ages: Mixed 0-5 years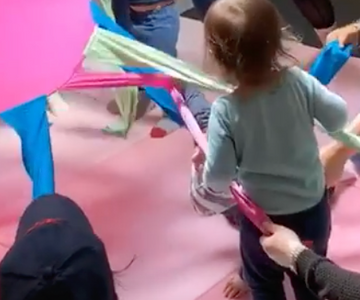 BLOOMING BÉBÉ
Blooming Bébé offers developmental movement and music classes for infants and toddlers ages 2 months to 4 years. Our mission is to nourish healthy minds and bodies through support and bonding. Classes are designed to build confidence and body awareness through movement and rhythm.
Blooming Bébé was created by Courtney Corbin-Simon, a mother, former professional dancer with Alvin Ailey American Dance Theater and Certified Infant Developmental Movement Educator through the School for Body-Mind Centering.
The Details:
Tuesdays 10-10:45 (Age: 1-3 years)
Tuesdays 11-12 (Age: 6 months - 4 years)
Oct 3 - Dec 5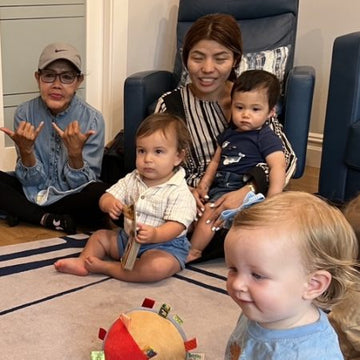 BABYFINGERS
SONG AND SIGN
Learn new songs and sing your favorites as you learn signs from ASL to support language development, self-expression, and bilingualism. See the research come to life, as music and sign language both aid in the development of language and literacy. Great for caregivers seeking to engaging with their child in music and sign to foster that bond.
The Details: 
Wednesday 10-10:45
Sept 13 - Nov 15
Age: Mixed 6 months + 
VIELKA VOICE
SING WITH CONFIDENCE
Cultivate your lifelong instrument – your voice! This unique program caters to caregivers and children from expecting parents up to age 4.  Designed and directed by The Juilliard School's former Global K-12 Music Specialist and New York City mom, you will experience singing made easy and enjoyable with The Vielka Method™.  With Feierabend's First Steps in Music curriculum, your child will experience the joy of music and reap long-lasting benefits for language development and cognitive growth.
The Details:
Sundays + Thursdays
Prenatal Mamas: 9-9:45
Ages 0-18 months: 9:45-10:30
Ages 18-30 months 10:30-11:15
Ages 2.5-5 - 11:15-12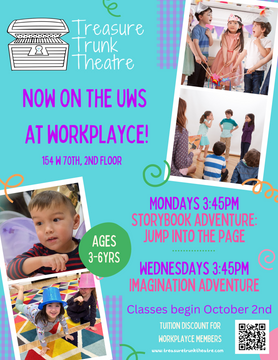 Treasure Trunk Theatre
STORYBOOK ADVENTURE
Each class begins with physical and vocal theatre warm ups that will get children ready for the day's exploration. Students will then open our magical treasure trunk to reveal the story of the day. Students will then work as an ensemble to act out the story together, creating a deeper understanding of the characters, plots and themes.
This class will encourage kiddos to confidently grow their self-expression skills, and their empathetic connection to their fellow mini-actors and the characters we discover.
The Details:
Mondays at 3:45pm
Ages: 3-6 years old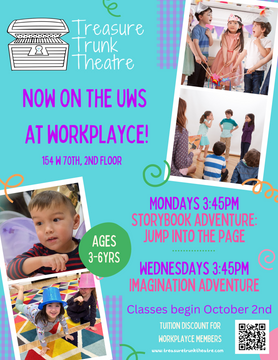 Treasure Trunk Theatre
Act, Move, Create, and Play… Where will your imagination take you today? In this class, children will open our magical treasure trunk and go on an improvised theatrical adventure. The props and costumes inside the trunk provide the spark that inspires a new story in each class that we will create together using our voices, bodies, and imaginations. The group will dive under the sea, fly through the sky like a superhero, or tip-toe into a secret castle…all while finding clues and working as an ensemble alongside our enthusiastic and experienced teaching artists.
This class focuses on strengthening collaboration and communication skills, and offers an exciting and engaging setting for each unique child to express themselves fully and begin to empathize with and relate to others.
The Details:
Wednesdays 3:45pm
Ages: 3-6 years old
Messy Play with Chelsea
THE JOY OF SENSORY EXPLORATION
Led by our resident Atelierista, Chelsea Milkman. Get ready for messy fun with shaving cream, playdough, taste-safe paint and more as we dive into a world of textures and colors. With each session, your child will explore and create in a safe and supportive environment. Sign up for all 8 weeks, or drop in!